The canoes that Maori have been thought to have arrived in traditionally gave rise to the different tribal groupings: the genealogy of Maori culture derives from each canoe of their ancestors.
The Fleet was, according to tradition, inspired by Kupe, the great navigator who, according to who tells the story, either discovered New Zealand intentionally, or was blown away from Hawaiiki, and accidently discovered New Zealand some time around 925.
Either way, he returned to Hawaiiki and brought back his people to this new land he named "Aotearoa" or "Land of the Long White Cloud", inspired by the clouds that hovered over the length of the Southern Alps.
| | | | | |
| --- | --- | --- | --- | --- |
| Canoe | Chief | Arrived | Tribes | |
| Maamari | Ruuaanui | Hokianga | Ngapuhi, Te Rarawa, te Aupoouri, Ngati Kahu | |
| Ngaatoki | Nukutawhiti | Hokianga | Ngapuhi | |
| Maahuuhuu | Rongomai | Kaipara | Ngati Whatua | |
| Tainui | Hoturoa | Kawhia | Waikato, Ngati Maniapoto, Ngati Haua, Ngati Maru, Ngati Paoa, Ngati Raukawa, Ngati Toa, Ngaitai | |
| Te Arawa | Tamatekapua | Maketu | Te Arawa, Ngati Tuwharetoa | |
| Tokomaru | Whata | Mohakatino River | Ngati Tama, Ngati Mutunga, Ngati Raahiri, Manukorihi, Puketapu, Te Atiawa, Ngati Maru | |
| Aotea | Turi | Aotea Harbour | Ngati Ruanui, Ngarauru, Atihau | |
| Kurahaupoo | Maungaroa or Ruatea | Whangaroa | Taranaki, Atihau, Ngati Apa, Rangitaane, Muaupoko | |
| Maataatua | Toroa | Whakatane | Ngati Awa, Tuhoe, Whakatohea, Whanau a Apanui | |
| Horouta | Pawa | Waiapu River | Ngati Porou | |
| Tohora | Paikea | Ahuahu (Gt Mercury Island) | Ngati Porou | |
| Takitimu | Tamatea | Waiau River | Rongowhakaata, Ngati Kahungunu, Ngaitahu | |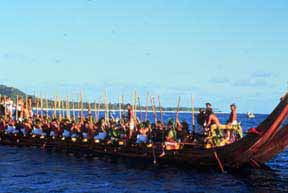 The tribes of the South Island believe that Rakaihautu discovered New Zealand - as he is said to have had little food aboard his wakas, he moved to the South Island where moas were available as a food source.
In 1350, after the main Fleet arrived in New Zealand, these Southern tribes were eventually overrun by the North Island arrivals, culminating around 1600 in an invasion by the Katimamoe, and a hundred years later by the Kaitahu.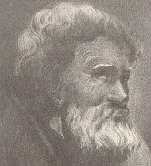 Both tribes fought until the Katimamoe were forced to the remote south-west of the South Island. One of the last battles is thought to have been at Preservation Inlet in the Dusky Sounds, when Maru, a chief, led a war party against the Katimamoe - he overcame them, but his canoes were lost, and he was marooned there. He was discovered by Captain Cook, the last of a vanishing tribe (Williamm Hodges crayon drawing above) that after Cook left, were never seen again.
---
New Zealand was a lot tougher than the Islands of Polynesia. It was colder - the traditional food crops, taro or coconut, would not survive, and traditional clothing would not suffice. Maori had to very quickly adapt, or die too.
---